Sociology
We currently offer sociology at GCSE and A level. We have a very experienced team who have experience of marking at GCSE and A level. In addition, Mrs Fitzgerald delivers courses for the exam board for A level Sociology.
Key Stage 4
Year 11:
Exam board: OCR
Paper one: Sociology Basics (1 hour)
Paper two: Socialisation, culture and identity (1 hour 30 minutes)
Paper three: Applying sociological techniques (1 hour)
Revision guides will be available to purchase from the library from the end of October 2017.
Year 9 and Year 10
Exam board: AQA
Paper one: The sociology of of families and education (1 hour 45 minutes)
Paper two: The sociology of crime and deviance and social stratification (1 hour 14 minutes)
The recommended textbook for the course is:
AQA GCSE Sociology (9-1)
Author: Rosie Owens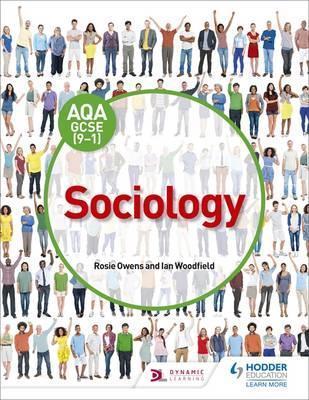 Course Contact: Mrs. Fitzgerald
Key Stage 5
At A level we offer the AQA specification. There are two compulsory units:
Education
Crime and deviance
This enables students to build on the knowledge they acquire at GCSE. However, we must stress that it is not necessary to study sociology at GCSE in order to choose it as an A level.
There are two optional units available and we select this on the basis of staff expertise. They can include: family, culture and identity, global sociology and beliefs in society.
We believe that sociology enables students to understand contemporary issues and complements a range of other subjects such as: History, Media Studies and English language/literature.
We use two different textbooks in our lessons and copies of these are available from the q-zone and library.
We encourage students to keep up to date with current affairs and we have a presence on social media that enable us to direct students to relevant stories. The Guardian, Channel 4 news and the BBC are recommended news sources.
Course Contact: Mrs. Fitzgerald
Entry requirements: If students have studied Sociology at GCSE they must have achieved a grade 4. If students have not studied the subject they must have 5 GCSEs at grade 4 or above including either English Language or English Literature
In our A level and GCSE lessons we use a range of teaching strategies in order to stimulate students interest and further their understanding.
The picture below was taken in a Y13 sociology lesson. Students had been exploring the differences between old and new wars in global sociology. In order to check that they had understood the difference they had to produce a scene depicting each with toys provided. Other students then had to identify the features in the scene.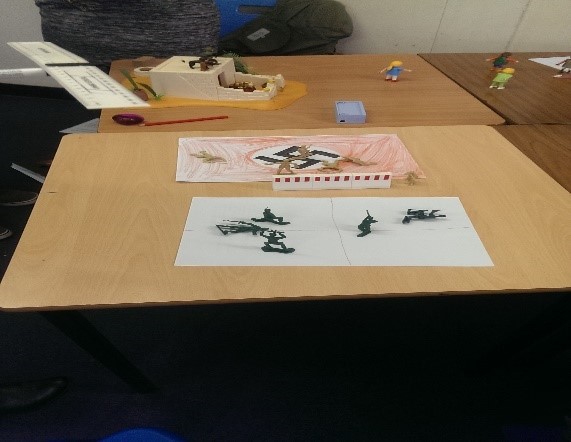 Here are some examples of work that our current Y11 students have produced on the topic of Youth.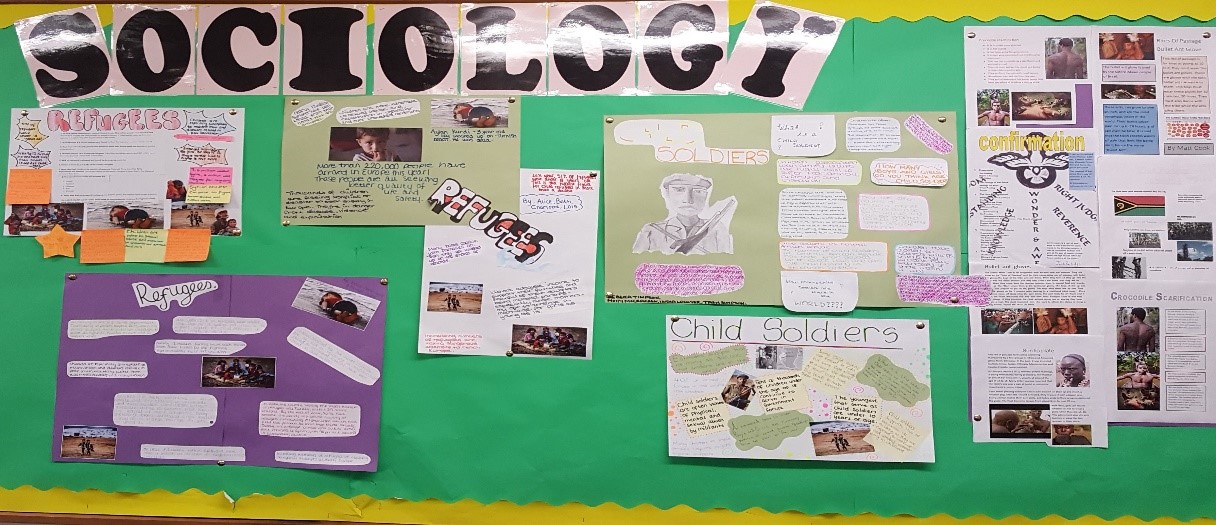 Teacher: