Uniform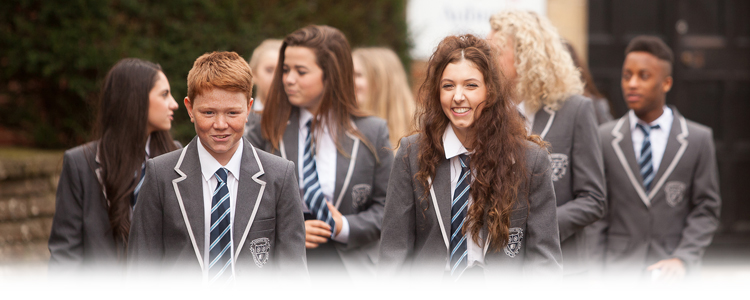 Our School uniform has been selected to give our students a pride in their appearance and a sense of belonging to Lutterworth College.
Our uniform reflects the schools rich 1880 heritage and strong belief in traditions. It has been designed to be formal, comfortable and purposeful.
All students are to wear uniform at all times whilst on school site unless express permission has been given not do so i.e. in hot weather. In particular, the school blazer is to be worn at all times and is not to be replaced by another item of clothing.
We are committed to providing a safe college site and to support this all staff, students must wear their ID cards at all times on College lanyards. When they join us each student will be provided with an ID card personalised with their photograph and name. The photograph taken of your son or daughter during Induction Week will be used for this purpose. ID cards will be required in order for students to print their work from the college system.
ID must be worn on College lanyards by all Year Groups across the school at all times.
Our uniform policy consists of:
Grey blazer with embroidered crest
Navy blue/silver College tie
Navy blue trousers/pleated skirt - trousers are to be full length and skirts must not be rolled up (the measure applied will be that the hem of the skirt extends below the length of the arm when extended down the side of the body)
Optional: Plain navy blue 'V' jumper with embroidered crest OR navy blue cardigan with embroidered crest - these items are not a replacement for the school blazer
Correct uniform will be available to purchase from our supplier, Academy School Uniforms. To ensure your child's uniform meets the college's expected standards it is advised that all uniform is purchased from our supplier. We have worked closely with them to ensure that items are of an excellent quality and affordable price.
Equipment expectations are:
Reading book
Pen (black/blue)
Green pen
Pencil
Ruler
Rubber
Sharpener
Glue
Scientific calculator
ID cards, lanyards & card holders
Lutterworth Academies Trust, will strictly no longer accept cash for payment at any of its catering outlets.
You will be aware that a student's ID card doubles-up as their payment card for food. The main reason for a move to a totally cashless environment are around security of cash on site but also to reduce the queuing time in our food outlets when students arrive with either cash or no ID/payment card. The use of cards as a means of payment for goods in society is long established and is a life skill that the Trust is happy to support. Our registers do have a 'card touch' payment facility much in the way that you would use a contactless debit card. We have investigated bio-metric recognition systems as an alternative to card payment but challenges exist around data protection in this regard that make it unworkable.
Students arriving to school without their ID/ payment card will not be able to purchase food from any of the school outlets.
They will also not be able to give their name for payment to be subtracted at a later date – this process has caused valuable wasted time and feedback from parents has caused concern about what items were purchased, when and for whom. Catering staff have been given strict instructions that this policy is to be upheld.
Ordering Online
We know that many parents would prefer to order online. Your child's school uniform can be purchased and will be delivered directly to your home or specified delivery address, incurring a delivery charge, or to the College free of charge (please note this may take slightly longer to arrive as deliveries are not every day) . Academy School Uniforms also hold pop up shops on site throughout the year. Please keep an eye out for specific dates being advertised.
Academy School Uniforms – Log on to www.just-schoolwear.co.uk.
Academy School Uniforms also supply non-school specific items of uniform.