Chemistry
GSCE CHEMISTRY Year 9-11
The GCSE Chemistry course is covered over 3 years of study with students sitting external exams at the end of year 11.
Students study a range of Chemical concepts with practical science at the core of all lessons to develop the skill of working scientifically to build a deep understanding of science with our students. This includes the development of scientific thinking, Experimental skills and strategies, Analysis and Evaluation; and the development of Scientific vocabulary
http://filestore.aqa.org.uk/resources/chemistry/specifications/AQA-8462-SP-2016.PDF
A Level Chemistry
A-level Chemistry attempts to answer the big question 'what is the world made of' and it's the search for this answer that makes this subject so fascinating.
From investigating how one substance can be changed drastically into another, to researching a new wonder drug to save millions of lives, the opportunities that chemistry provides are endless.
Topics covered
A-level Chemistry lasts two years, with exams at the end of the second year. The table below shows what you'll learn in each year.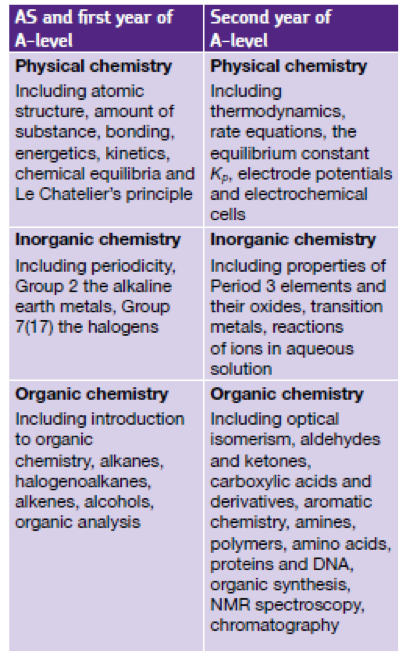 Practicals
Chemistry, like all sciences, is a practical subject.
Throughout the course you will carry out practical activities including:
measuring energy changes in chemical reactions
tests for identifying different types of compound
different methods for measuring rates of reaction
studying electrochemical cells
preparation of organic solids and liquids
an advanced form of chromatography for more accurate results.
Exams
There is no coursework on this course. However, your performance during practicals will be assessed.
There are three exams at the end of the two years for A-level, all of which are two hours long. At least 15% of the marks for A-level Chemistry are based on what you learned in your practicals.
http://www.aqa.org.uk/subjects/science/as-and-a-level/chemistry-7404-7405/introduction